In January of 1996 I bought a Jeep, packed my bags, and took off on a two-month journey through Mexico.  Although I had been living there just months earlier, I felt compelled to return.  My year in Baja, California, had been rewarding in so many ways, but I couldn't shake the feeling that I had missed an important life lesson.   Not exactly knowing what I was looking for, I took off on what would become two of the most profoundly spiritual months of my life.  By the end of my journey, I would return home having made a decision that would change my life in ways I could never have imagined.
The vast solitude of the Mexican desert delivered up many of its secrets on that trip. I experienced miracles, both large and small, that will wind their way through my blog for years to come, but the greatest secret that Mexico laid at my feet was not found in the desolation of her wilderness, but in the modest and humble homes of her children.
With every village I entered and every hand I shook, I was taken in and received as an honored guest.  My journey was soon dictated by the friendships I was forming and not by a guidebook.  My days were filled with those who had made time for an afternoon coffee, and my nights would spill well into the wee hours of the morning, fueled by homemade guisados (braises), fresh tortillas, Mariachi, and tequila.  I never once heard anyone excuse himself or herself from a gathering because they had to work the next day.
Living in the present and in communion with others was at the center of Mexican life.  No Xboxes, no computers, no cell phones and, in some cases, not even electricity.  Yet I never heard a complaint, a sigh, or an envious hope of a different life to be lived.  They had each other and it seemed to be enough.  I have to believe it was enough.
I was haunted by the joy and peace that I found in virtually everyone I met because it presented itself as a great foil to my solitude and singleness.  It was true that living life for myself had its advantages, but every encounter, every gathering, every moment in Mexico was punctuated by the idea of living in communion with others: No one dines alone, no one sits alone in their apartment or home, no one lives or even dies alone.
I know exactly where I was when I made the decision.  I can picture the highway, the arid landscape.  I can still feel the warm wind blowing across my body as I drove back towards the USA.  I had found what I was looking for, and I wondered if it could be found in my homeland.   The idea came and I knew what I would do.  I would sell my house and propose to my closest friends, John and Holly, if they would like to buy a duplex in Los Angeles.  It was an idea born out of the profound happiness I witnessed all across Mexico and, if I could, I wanted to try to capture that spirit of communal living.
John and Holly were living in a apartment and getting ready to have their second child.  There would yet be one more, but at the time even two children meant they were ready for a move.  On my return to Los Angeles, I approached them with the idea.   They were immediately open to it, but I do remember a few tarot readings and some throwing of runes before we made the final decision.  As exciting as the idea seemed, it didn't come without stumbling blocks.  We're not raised with a natural inclination for communal living, and there seemed to be a slight "missing the mark" of the American Dream for the single family home we were supposed to be separately living in.
Long before we found our home, we already knew it would be called "Casa Providencia" (Providence House) which arose from where we met and lived together in Providencia, Chile, many years before and not from the word providential.  Although, in retrospect, the latter holds the most prophetic truth about what it has come to mean for all of us.
We saw many homes during our search and each had something to offer, but as we poured over the pro's and con's of the homes we had seen, none seemed to be the "Casa Providencia" we had in mind.  Then, on a peculiarly cold and rainy afternoon in March, some 15 years ago, after much searching, our realtor mentioned she had one other possibility that might work.   She took us to a home that seemed to be peacefully sleeping through the rainstorm.  There was a gentle elegance that hung about this aging Spanish beauty. Huddled under one umbrella we hurried after our realtor for cover under the porch.  She opened the door to what would be our home and within seconds, we looked at each other and simultaneously exclaimed, "Casa Providencia!"
Since that day we have lived side by side and shared thousands of meals, countless birthdays, holidays, promotions, weathered construction, sickness, pregnancies, births, and deaths.  There is always someone to share a coffee with, watch a movie, or just sit and talk. We often linger over a bottle of wine into the late evening hours and greet each other in the morning with a fresh brewed pot of coffee.   Our public and private lives have become so intertwined in ways that anyone from a small town or village would understand.  There are no secrets. There is no privacy.  We are always there for each other.
Like Ebenezer Scrooge, I had been given a prophetic vision of how life might be.  And like him, it depended on choices that had to be made for it to come true.  We all took the leap of faith and are living the joy of community that I witnessed in Mexico so many years ago.  It would be years before Andrew would arrive at Casa Providencia, but when he did, he got so much more than a father.  He has been adopted over and over into an extended family that has grown to love, cherish, and support him in ways that will nourish him for life.
I'm still single, but I am not alone.  I had gone to Mexico to find my heart and was given a map that led me back to my native home where it had been all along.
__________________________________________________________________
Over the years, many traditions have been born at Casa Providencia:  Saturday croissant runs, Sunday morning crepes, Steak Au Poivre for everybody's birthday, and Sunday evening  meals together.  During the summer and into the fall we tend to eat this meal outside and it usually involves our pizza oven, but during the winter it's all about the braise.
Braising is nothing more than slow cooking meat or vegetables in a bit of liquid, but the results are layered with a depth of flavor that will wrap around you like a grandparent's hug and keep you comfy on a cold winter's night.
Once you get a couple of braises under your belt, your inner cook will be released and you will only be limited by your creativity and pantry.  The master recipe for a braise is take some meat (any kind), brown it in some fat (any kind), remove and set aside.  Add some aromatics like onions, garlic, fennel (again, any kind) and sauté in the left-over fat, put the meat back in the pot and add liquid which could be tomatoes, wine, beer, stock, you get the idea… any kind.    Cook in an oven at 300  to 350, covered, for quite a while, and enjoy.  Alternatively, cook it uncovered on a stove over low flame.  That's it.  If you go for the low temperature and long cook time (4 to 6 hours), you don't even need to brown it; just throw everything in the pot and walk away.
I apologize that the first braise I share is more complicated than most.  It's based on a recipe from My Calabria by Rosetta Constantino and has a few more steps than normal, but it was our Oscar winning, Oscar-night braise served with "True Grit" polenta.  Besides the picture I took in the seconds I had as the food was plated and whisked away turned out too good to not publish.   If you want to save yourself time and effort, have your butcher cut the meat for you.
3 to 4 lbs boneless pork butt (shoulder), you can also use boneless pork chops
Kosher salt
¼ pound pancetta and up to ½ pound for a more substantial paste
2 to 3 tablespoons chopped flat-leaf parsley
2 to 3 garlic cloves, plus 3 more for sauce
3 or 4 dried apricots or prunes
¼ cup Parmesan cheese
2 oz pine nuts or walnuts (optional)
½ tsp freshly ground black pepper
Kitchen twine
Olive oil
Two (28-ounce) cans diced tomatoes
5 fresh basil leaves and 5 sage leaves, torn into smaller pieces
If you are going to cut the pork yourself, you should freeze it first for a couple of hours, or if you are already defrosting it, get ready to cut the scaloppini-like slices before the meat has completely "de-thawed" and is still firm.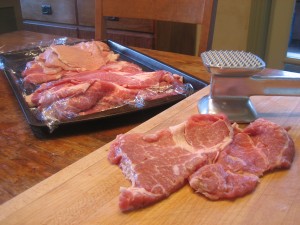 Cut the pork into slices about 3 x 5 inches and ¼-inch think.  They will not be perfect rectangles.  The 3 pounds should give you about 12 slices, but I sometimes buy more to allow for bad cuts.  I just throw my mess ups into a pot of beans later on.  Working with one slice at a time, put the meat between two sheets of plastic wrap and pound with a mallet to about 1/8-inch thick.  Salt both sides of the cutlets.
For the stuffing, combine the pancetta, 2 or 3 cloves of garlic, parsley, fruit, pepper, cheese, and nuts in a food processor.  Using the metal blade, pulse until you have a  paste, but still a little chunky.
Top each cutlet with 2 teaspoons of the stuffing.  Spread it evenly but stay clear of the edges.  Working with the shorter side, roll the slices tightly and using an 18-inch  piece of twine, tie each roll by looping the twine around the roll, and tying it off.
Choose a heavy pot or Dutch oven large enough to hold all the pork rolls in one layer.  Pour in a good glug of oil, heat over medium high heat, and brown the rolls on all sides, about 5 minutes total.  Add the tomatoes, whole garlic, basil, and sage.  Scrape up all the crusty brown bits on the bottom of the pan.  Season with salt and simmer gently, uncovered, until the sauce thickens and the meat is fork tender, 1 to 1 ½ hours.
Remove the rolls from the sauce and cut off the string, careful not to burn your fingers.  Return the rolls to the sauce and keep warm over low heat.
These pork rolls can be served as a meat course and the tomato sauce used with a pound of pasta.  Alternatively, you can serve them over creamy polenta as we did.  Either way is delicious and worth the trouble.
Serves 6
POLENTA
We love polenta, but I know that others scare away from it because it has the fame of being a lot of work.  Although you could stand over it for an hour, lovingly stirring it into creamy submission, it will still be great with a bit more of a hard love approach.
The basic recipe is:
1 cup polenta or cornmeal (see note)
4 cups water or chicken stock (or a combination of the two)
Salt and pepper to taste
Parmesan cheese (optional)
Butter (optional)
Like all traditional recipes, everyone has something to say about how to make the perfect polenta.  Marcella Hazan, the final word on anything Italian, suggests to bring the water to a boil and then with handfuls of polenta, slowly sprinkle it into the water as you stir with a wooden spoon and then continuously stir for the 45 minutes to an hour it takes for it to be fully cooked. Others suggest that you put it all into your pan, pop it into the oven at 375 and let it cook for an hour with a final stir at the end.  Both methods work fine.
I usually take a middle of the road approach and start mine out in cold water, then stir over medium high heat.  As the water heats up, stir often until the mixture has come together.  Turn the heat down to medium, add some salt and pepper, and stir occasionally for 45 minutes to an hour, or until smooth and creamy and starts to pull away from the side of the pan.  Just before serving, add about ¼ cup Parmesan and a tablespoon of butter, if desired.  If the polenta is done before the rest of the meal, you can take it off the heat and when you are ready to reheat it, add a bit of milk to return it to the desired creamy texture.
Note:  For cornmeal, grits and polenta, the major difference is the coarseness of the grind. Cornmeal tends to be finer ground than polenta for example which makes for a very different texture and cooking time. Polenta is poor choice for cornbread because of this. Corn flour (which you didn't ask about) is even finer than cornmeal. If you use cornmeal instead of polenta decrease the cooking time by 15 to 30 minutes.  You can tell when it's done by the way it starts to pull away from the side of the pan.
Serves 6
Provecho